Adapted from the play by Roland Schimmelpfennig. Music by: Vivan and Ketan Bhatti. Libretto by: Michael Höppner.
World premiere on January 21, 2016 with additional performances through February 21, 2016
A midsummer night's dream with consequences…young Germans and Turkish-Germans unexpectedly encounter each other one night at an outdoor swimming pool both groups have broken into. Stars shine over the water while unfamiliarity and competition transform into fascination. Together, they make their way through the city celebrating themselves and the feeling of being alive. Boundlessly. Surreally. With their entire future before them. Everything seems possible during this night…but that was twenty years ago.
Back then, Frank and Leyla fell in love, became a couple and then went their separate ways: he, the German son of a government official, also became a politician and she, the daughter of Turkish immigrants, remained a cashier at a supermarket. And now, on a cold and wet November night shortly before Frank is sworn-in as the Minister of the Interior, they meet by chance and hurry to Leyla's apartment. And then Frank suffers a nervous breakdown…
In his play The Black Water, Roland Schimmelpfennig allows six men and women to reconstruct the story of Leyla, Frank and all of the others: what happened on that summer night back then and what happened on this evening in November?
Vivan and Ketan Bhatti have adapted Schimmelpfennig's play about desire and the failure of dreams, expectations and paths through life into a piece of music theater for six singers and a chamber ensemble, a multifaceted, atmospheric composition that makes the different places, leaps in time and situations "audible". Scored with the rhythms of popular music with the use of a wide variety of musical forms from oratorical choruses and recitative passages to song and arias and with the use of the means of expression of experimental music, a piece of epic music theater is created that translates the jargon of its extraordinary predecessors (such as Kurt Weill) into our present.Schimmelpfennig's protagonists tell a (love) story as moving as it is sad. Do Frank and Leyla symbolize us all, Germans and immigrants? Despite all of the years, all of the attraction and all of the commemoration of differences, do we still live in separate worlds?
Beyond the poetic qualities and virtuosity of the storytelling, it is this discussion that interests us in The Black Water: do we still live in "boxes"? This is why we commissioned the Bhatti brothers to create a composition, because the piece and the topic should also be able to be experienced as music theater for a wide, music-interested audience. In light of the current drama of those seeking refuge in Berlin and Germany, it seems important to us to refrain from forgetting the critical question of the coming together and growing together of the "long-established" and the "newly arriving" citizens.
Director Michael Höppner has placed the musical-scenic investigation of the incident in the editorial office of a German newspaper: six young journalists, all with "migration background" try to uncover the facts and events that led to the nervous breakdown of the young star politician Frank. How strongly is our perception of the "integration topic" affected by the media? What does it mean if it is normal that the scandal surrounded a designated German cabinet minister alleged in the media is more important than the reality of a German-Turkish relationship?
Directed by: Michael Höppner | Musical Direction by: Yonatan Cohen | Scenography by: Judith Philipp | Dramaturgy by: Bernhard Glocksin
Featuring: Hrund Ósk Árnadóttir, Robert Elibay-Hartog, Marielou Jacquard, Magnús Hallur Jónsson, Katarina Morfa, Angelos Samartzis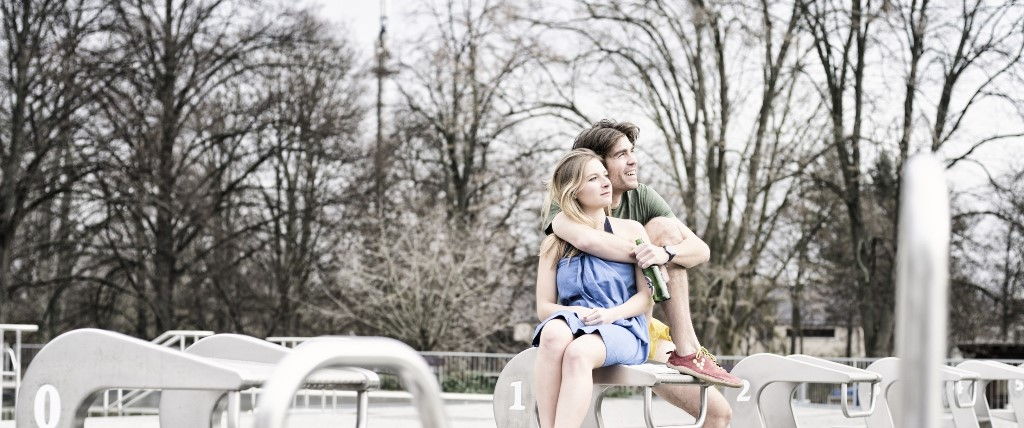 KOMMENTARE